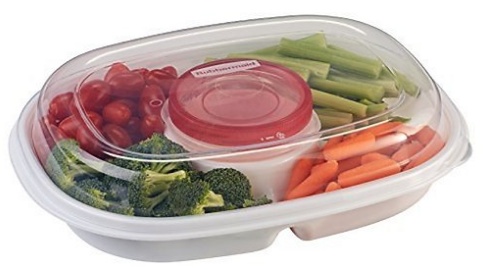 The Bradford pear and cherry blossoms are beginning to bloom and I'm taking my allergy medicine every day now. This is a sure sign that Spring is on it's way and outdoor family gatherings are about to begin. When my siblings and I started having children, we decided to host a monthly get together we called Douglii events (a word invented to identify multiple Douglas family members being together). It's a tradition we've been doing for the better part of 18 years. Whether it be tailgate events in the Fall at the University of Georgia, birthdays, family picnics, beach vacations, or the like…one thing has always been a constant and must have for all occasions – Mom's spinach dip.
Growing up, this was a recipe mom would fix anytime there was a party, which she served with tortilla chips or Bugles. Now that we are older (and rounder), my sisters always provide veggies as the "healthy" alternative for the chips. Carrot or celery sticks, grape tomatoes and cucumbers slices seemed to be the favorites. Everyone takes turns preparing and bringing it to the Douglii events. Not necessarily difficult to make but sometime a pain to transport, I've found that the Rubbermaid Party Platter is convenient and easy to prep, store and transport the dip and sides. The clear outer container can hold up to all kinds of veggies and chips and the dip container can hold 2 cups and has a screw tight lid that stores inside the container and doesn't spill or leak. Large enough to hold a good bit of food and small enough to load it into a Rubbermaid ice chest to take outdoors for picnic or tailgate areas. Also found out these are easy to clean and dishwasher safe and ready to reuse time after time.
Mom's Spinach Dip
Ingredients:
1 container sour cream (16 oz)
1 cup mayonnaise
1 box (10 oz.) frozen chopped spinach, thawed and squeezed dry.
1 package vegetable recipe mix (we generally use Knorr brand)
Mix all ingredients together and store in refrigerator for at least two hours before ready to eat.