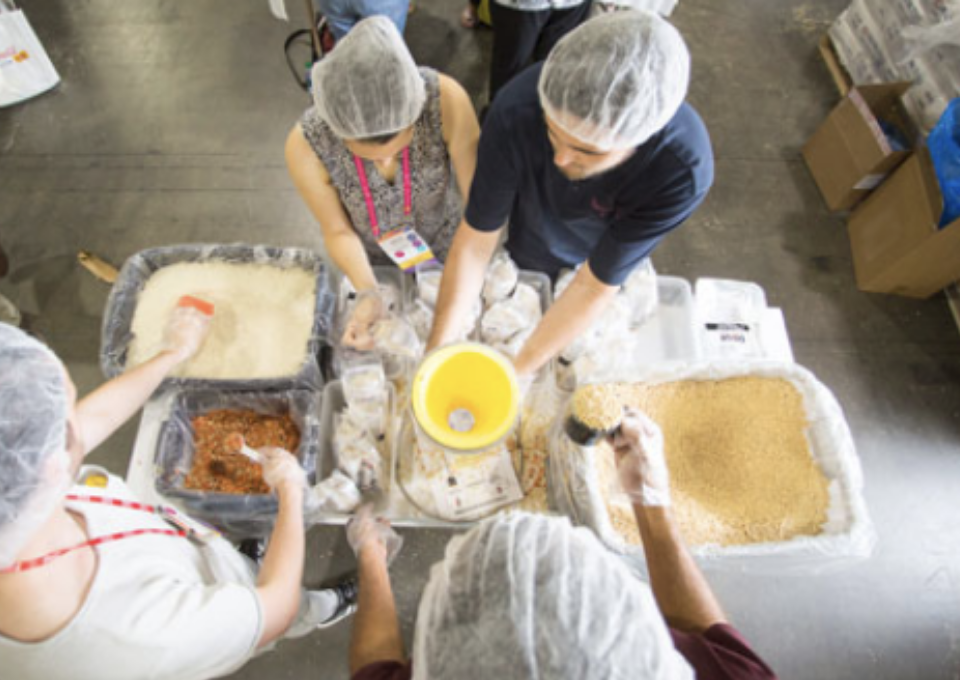 I've been selling Rubbermaid products for the better part of 17 years. If Rubbermaid had made it, I've likely sold it – From maid's carts, to toilet brushes, ice chests, water coolers, sheds, benches, waste baskets, garbage cans, mop buckets, food storage containers and water pitchers. You get my drift. Nothing fancy or noteworthy; at the end of the day, it's all just plastic "stuff".
One day a few years ago, I get a call from a guy that he needs some Rubbermaid roughneck totes. This is a simple bin – that varies in sizes from 3 gal to 18 gal and is available in a variety of colors. I've sold tons of these. I ask the simple question, "What do you do with them?". I get a simple response back, "We're ending hunger".
"Wait…What did you say?" I ask, thinking I heard this wrong. The reply again, "We're ending hunger." The voice on the other end explains that he is with Stop Hunger Now (now known as Rise Against Hunger) and he uses the totes to store product and then and use as part of their food packaging event where they weigh and portion specific meals that they then ship across the world to provide food in countries where the population is meal or nourishment deprived. 815 million people in the world are impacted by hunger. Rise Against Hunger wants that to be zero in the next 12 years.
Last year I was able to finally see the totes I sell in action. I was able to participate in a Meal Packaging
Event in the community where I live. My wife and children had been involved the two years prior and I
was finally able to make it this time. What a hectic, crazy, impactful and moving event. Tables upon
tables of individuals and families, taking specific ingredients, measuring and portioning all the different
items into a plastic bag and sealing them and packing them in master cartons. Scores of people, playing
their part to package over 61,500 meals that day. And there on every prep and packing station were
Rubbermaid totes. I was extremely proud that day knowing that what I do in my work life really does
have an impact on others in the world. I'm so glad I asked what they were going to do with them. Just
simple totes that will hopefully help end world hunger by the year 2030.
Read More